Did you know The Spine Institute conducts clinical trials?
Most advances in the diagnosis, treatment, and care of patients with spine injury or disease have occurred because of clinical trials. Examples include improved diagnostic tests that allow for earlier treatment, increased knowledge and education regarding risk factors, and experimental treatments. The results of many clinical trials have contributed to health care professionals finding better ways to treat injury or diseases of the spine.
If you have back pain don't put off treatment any longer, contact the spine care specialist at The Spine Institute today.
Health Facts
Back pain is often caused by obesity
Most people know that obesity contributes to the development of various diseases. However, did you know that obesity is a contributing factor to back pain? It is true. Being overweight or obese can significantly contribute to  osteoporosis, osteoarthritis, rheumatoid arthritis, degenerative disc disease, spinal stenosis, and spondylolisthesis.
Dietary Supplement Fact: Vitamin D Essential for Bone Health
Vitamin D is essential for promoting calcium absorption in the gut and maintaining adequate serum calcium and phosphate concentrations to enable normal mineralization of bone and prevent hypocalcemic tetany. It is also needed for bone growth and bone remodeling by osteoblasts and osteoclasts. Without sufficient vitamin D, bones can become thin, brittle, or misshapen. Vitamin D sufficiency prevents rickets in children and osteomalacia in adults. Together with calcium, vitamin D also helps protect older adults from osteoporosis.
Fountain of Youth for the Spine?
Low back pain caused by damaged discs in the spine affects millions of people every year. Traditional treatments for these damaged discs have been destructive in nature. The future of spinal treatment is to repair damaged discs thereby eliminating back pain.

"FOX Network News announced the promising news of the results of a clinical trial that the reporter says is "pretty cool stuff.... and the results have been spectacular." Adult stem cells are treated, then reinjected back into the patient's degenerating spine discs, resulting in the regeneration of the spine discs. This is a must see segment for anyone, be it a health professional or potential patient. The process uses adult stem cells. Dr. Hyun Bae says "It's almost kind of the fountain of youth for the spine." The study is being overseen by the FDA."
- Published on

Apr 1, 2014

(YouTube.com)
A small number of leaders in the field of spinal and disc disorders are now focused on regenerative biologic therapies to repair damaged discs and decrease pain. These treatments are performed via minimally invasive approach through a single needle allowing access to the damaged area of the disc. This allows for the least disruption of normal anatomic structures and decreases recovery time from the procedure.

Dr. Hyun Bae of The Spine Institute in Santa Monica and The Spine Center at Cedars Sinai Medical Center is one of the primary investigators for FDA studies for injectable biologic therapies to treat damaged discs in the spine. Learn more about Regenerative Biologic Therapies, click here.
Press Release!
Non-Invasive Imaging Technique Developed to Guide Diagnosis of Common and Painful Degenerative Back Condition
LOS ANGELES (May 7 , 2014) –The Cedars-Sinai Regenerative Medicine Institute, Biomedical Imaging Research Institute and the Department of  Surgery received a $2.8 million grant from the National Institutes of Health (NIH) to aid in the development of the first-ever imaging technique used to diagnose patients suffering from a painful degenerative back condition. By actively identifying the location of pain, researchers hope to alleviate the need for painful diagnostic procedures and in the future, provide targeted, stem-cell based therapeutics to affected individuals. 
"Degenerative back conditions are extremely challenging to diagnose and treat, by understanding where the source of pain comes from, physicians can better utilize treatments and pain management to help patients live a more normal lifestyle."
said
Hyun Bae, MD
, clinical lead of the research study, medical director of orthopedic spine surgery and director of spine education.
To read more about The Cedars-Sinai grant from the National Institutes of Health (NIH), click here.
Two new offices now open to better serve you!
With locations in Los Angeles, adjacent to Beverly Hills, West Hollywood, and Santa Monica, The Spine Institute has long been a destination for spine patients world wide.
You will be cared for by a team of experts providing the most advanced treatment options and comprehensive care available to prevent, treat and rehabilitate conditions that affect the spinal column. Most importantly, this combined advanced medicine is tailored to your individual needs.
For Appointments Call:
Cedars Sinai Location: 888-774-6376
Santa Monica Location: 310-828-7757
The Spine Institute
(Medical Imaging Building)
2811 Wilshire Boulevard, Suite 850 
Santa Monica, CA 90403
Phone: 310-828-7757
(Click here for directions)
The Spine Institute
(Mark Goodson Building) 
444 South San Vicente, Suite 901 
Los Angeles, Ca 90048
Phone: 310-248-7300
(Click here for directions) 
The office is open Monday through Friday, 8am-5pm. (office closes at 4pm on Fridays)
The switchboard is open from 9am-12pm & 2pm-5pm
The answering service will take messages when the switchboard is closed.
Dr. Delamarter performs surgery on the King of Thailand
A quote from Bangkok's
Independent Newspaper - The Nation:
"Orthopaedic surgeon Rick Delamarter has traveled the globe treating famous people, though he said he had never seen such a highly impressive event as when hundreds of thousands of well-wishers came out to wish their King a speedy recovery. Delamarter, said to be one of the best orthopaedic surgeons in the world, was speaking with Sereechai, a Thai newspaper in Los Angeles, in an exclusive interview after successfully operating to treat lumbar spinal stenosis, a degenerative narrowing of the spinal canal, on His Majesty on July 20 at Siriraj Hospital in Bangkok."
In the news:
Dr. Rick Delamarter was asked about Peyton Manning's (Colts quarterback) most recent neck surgery and the likelihood of this being a career-ending situation, he said: "That would surprise me. I think there's a high likelihood that he will recover from this surgery, get back in shape and be able to play again." But Manning might not be able to resume his career, Delamarter said, if the injured nerve root doesn't recover totally. Delamarter, who has performed neck operations on many NFL players and other professional athletes, agrees that Manning could be out the entire season.
Read more:
Los Angeles Times
Visit our
media library
for access to all of our news videos.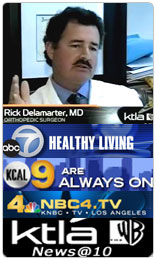 The Spine Institute is often in the news pioneering new treatments to help the reported 34 million Americans 18 years and older who suffer lower back pain, and another 9 million who suffer neck pain. Watch the news coverage
here
.
Dr. Hyun Bae
is the first U.S. surgeon to test a new synthetic gel called the
NuCore injectable nucleus
. It's injected directly into the natural cushion of the disc.