Health Facts
Back pain is often caused by obesity
Most people know that obesity contributes to the development of various diseases. However, did you know that obesity is a contributing factor to back pain? It is true. Being overweight or obese can significantly contribute to  osteoporosis, osteoarthritis, rheumatoid arthritis, degenerative disc disease, spinal stenosis, and spondylolisthesis.
Hyun W. Bae, M.D., Research Director
A board-certified orthopaedic surgeon, Hyun W. Bae, M.D. specializes in minimally-invasive microsurgery and in the treatment of cervical and lumbar spinal disease at The Spine Institute
- Santa Monica CA.
Curriculum Vitae (pdf format)



(what is a pdf?)
Dr. Bae began his medical studies at Columbia University School of Engineering and Applied Sciences where he graduated with a degree in biomechanics. He then went on to earn his medical degree, cum laude, at Yale University School of Medicine. Dr. Bae completed his surgical internship at North Shore University Hospital and his orthopaedic surgical residency at the Hospital for Special Surgery in New York. He completed his spine fellowship at Case Western Hospital in Cleveland.
Dr. Bae has written numerous articles based on his research as well as presenting on behalf of the American Academy of Orthopaedic Surgery. He is researching the use of adult stem cells in the regeneration of nervous tissue in spinal cord injuries.
Latest news
Visit our
media library
for access to all of our news videos.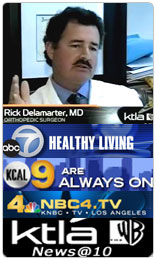 The Spine Institute is often in the news pioneering new treatments to help the reported 34 million Americans 18 years and older who suffer lower back pain, and another 9 million who suffer neck pain. Watch the news coverage
here
.