Health Facts
Back pain is often caused by obesity
Most people know that obesity contributes to the development of various diseases. However, did you know that obesity is a contributing factor to back pain? It is true. Being overweight or obese can significantly contribute to  osteoporosis, osteoarthritis, rheumatoid arthritis, degenerative disc disease, spinal stenosis, and spondylolisthesis.
Michael A. Kropf, M.D.
A leading Board Certified orthopaedic surgeon, Michael A. Kropf, M. D. specializes in the treatment of cervical and lumbar disorders and the treatment of scoliosis at The Spine Institute
- Santa Monica CA.
Curriculum Vitae (pdf format)



(what is a pdf?)
Professional Expertise Dr. Kropf is an assistant clinical professor at the UCLA School of Medicine's Department of Orthopaedic Surgery. Prior to joining The Spine Institute, he served as Chief of Orthopaedics at St. Jude Medical Center in Fullerton, California.
Medical Qualifications Dr. Kropf began his studies at the University of California, Riverside Biomedical Sciences where he graduated with honors. After earning his medical degree at the University of California, Riverside and Los Angeles, he completed a surgical internship at UCLA School of Medicine's General Surgery Department. Following his internship, Dr. Kropf completed an orthopaedic residency at Harbor/UCLA Medical Center in Torrance, California as well as a fellowship in spinal surgery at UCLA.
Professional Memberships Dr. Kropf is an active member of the American Academy of Orthopaedic Surgeons, North American Spine Society, California Medical Association, and Orange County Medical Association.
Presentations and Research Michael A. Kropf, M. D. is an author of several spine related articles and publications.
Latest news
Visit our
media library
for access to all of our news videos.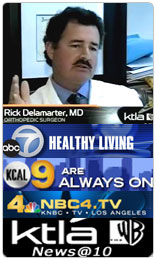 The Spine Institute is often in the news pioneering new treatments to help the reported 34 million Americans 18 years and older who suffer lower back pain, and another 9 million who suffer neck pain. Watch the news coverage
here
.