Procedure
IDET is a minimally invasive procedure, which uses a heated catheter in attempts to stabilize a painful disc and disable the associated nerve.
Earlier studies claimed greater than 70% of patients had improvement of discogenic low back pain after IDET treatment, but more recent studies have shown less than 40% of patients have any improvement or satisfaction after the IDET procedure.
This procedure will likely become obsolete in the near future after further independent studies are completed.
Latest news
Visit our
media library
for access to all of our news videos.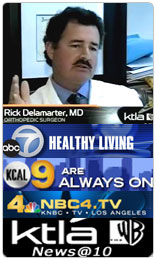 The Spine Institute is often in the news pioneering new treatments to help the reported 34 million Americans 18 years and older who suffer lower back pain, and another 9 million who suffer neck pain. Watch the news coverage
here
.