Health Facts
Back pain is often caused by obesity
Most people know that obesity contributes to the development of various diseases. However, did you know that obesity is a contributing factor to back pain? It is true. Being overweight or obese can significantly contribute to  osteoporosis, osteoarthritis, rheumatoid arthritis, degenerative disc disease, spinal stenosis, and spondylolisthesis.
Fellowship Program Through
Cedars-Sinai Spine Center
The Spinal Surgery Fellowship Program at the Cedars-Sinai Spine Center is a one-year program that provides comprehensive training in adult and adolescent spinal problems, including deformity, disc surgery, and degenerative conditions affecting the spine, tumors, trauma and arthritis with such treatments as endoscopic, microscopic and minimally invasive surgery.
The fellowship consists of both inpatient and outpatient experience with primary clinical responsibility. In addition, fellows participate in basic scientific and clinical research to fulfill the requirements of the program. Two positions are available each from the fields of neurosurgery and orthopedic surgery. Interested candidates should submit a cover letter along with a recent copy of their CV to Dr. Rick Delamarter. Please visit Cedars-Sinai Spine Center's web site for more information or please contact:
C. Boyd
Cedars Sinai Spine Center
444 S. San Vicente Blvd., 900
Los Angeles, CA 90048
Phone: (310) 423-9275 Fax: (310) 734-463

Latest news
Visit our
media library
for access to all of our news videos.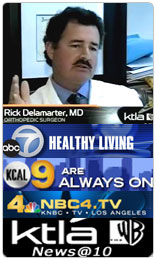 The Spine Institute is often in the news pioneering new treatments to help the reported 34 million Americans 18 years and older who suffer lower back pain, and another 9 million who suffer neck pain. Watch the news coverage
here
.