Introduction to Myelopathy
Spinal cord injury, or myelopathy, is a disturbance of the spinal cord that results in loss of sensation and mobility. Cervical spondylotic myelopathy (CSM) is caused by compression of the spinal cord in the upper spine, or cervical stenosis. Bony spurs formed by long-standing arthritis grow into the canal and compress or place pressure on the cord.
Symptoms of a Myelopathy
Symptoms of myelopathy include neck pain, problems with balance, numbness in the hands and fingertips, and difficulty with fine movements like buttoning a shirt. Patients can also display exaggerated reflexes.
Conditions which can result in myelopathy are multiple sclerosis, amyotrophic lateral sclerosis, and spinal cord disorder. However, cervical spondylotic myelopathy is the most common cause of spinal cord dysfunction in the elderly.
The diagnosis of CSM is usually confirmed by magnetic resonance imaging which shows narrowing of the spinal canal.
Treatment Options for Myelopathy
Conservative treatment is aimed at decreasing pain by reducing spinal cord and nerve root inflammation, using a combination of temporary immobilization of the neck and steroid injections into this space can help to decrease inflammation of nerves and other soft tissues in the problematic area.
The most common procedure performed to relieve compression or pressure on the spinal cord or nerve roots is anterior cervical decompression. Since removal of bone during a decompression may disrupt continuity and increase instability of that area of the spine, a fusion is also performed to provide structural stability.
Latest news
Visit our
media library
for access to all of our news videos.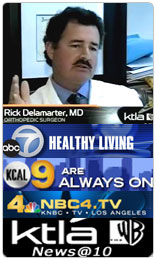 The Spine Institute is often in the news pioneering new treatments to help the reported 34 million Americans 18 years and older who suffer lower back pain, and another 9 million who suffer neck pain. Watch the news coverage
here
.