Introduction to Osteoporosis
Osteoporosis is called a "silent disease" because most patients do not have symptoms. Osteoporosis is defined and diagnosed by a decrease in bone mineral density. Osteoporosis results in decreased mechanical strength and increased likelihood of structural failure.
Osteoporosis is the most common skeletal disease associated with aging.
Symptoms of Osteoporosis
The World Health Organization (WHO) has defined osteoporosis as 2.5 standard deviations below the bone density of a young adult reference population. Dual-energy x-ray absorptiometry (DEXA) is the most commonly used technique to measure bone density. As the average age of people in the United States increases, more problems such as hip and vertebral compression fractures result from osteoporosis.
Osteoporosis is responsible for an estimated 1.5 million fractures annually (700,000 vertebral fractures). In addition to accidental bone fractures, surgical procedures performed on an osteoporotic patient become more complicated.
Treatment Options for Osteoporosis
Osteoporosis can be prevented! To maximize peak bone mass, which is generally reached between 20 and 25 years of age, a recommendation is made of 1200 mg calcium and 800 IU of vitamin D per day for 11-24 year old individuals. Medical management for ages 25-50/menopause is bone maintenance and is attempted by supplements of dietary calcium intake of 1000 mg and vitamin D intake of 400 IU per day. For peri or post menopausal women a combination therapy of estrogen replacement therapy, anti-resorptive agents, as well as calcium intake of 15mg/per day are usually recommended. A regular program of exercise throughout life is always recommended to resist the onset of osteoporosis, especially in those with a sedentary life style.
A news report on the treatment of osteoporosis
from KCAL Ch9, Los Angeles, CA. (click on the image above)
Latest news
Visit our
media library
for access to all of our news videos.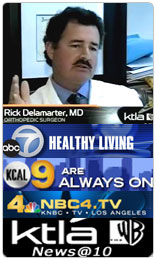 The Spine Institute is often in the news pioneering new treatments to help the reported 34 million Americans 18 years and older who suffer lower back pain, and another 9 million who suffer neck pain. Watch the news coverage
here
.
Dr. Hyun Bae is the first U.S. surgeon to test a new synthetic gel called the
NuCore injectable nucleus
. It's injected directly into the natural cushion of the disc.