Did you know?
If you can answer yes to any of the following questions, you should consult a spine specialist:
If you have back pain don't put off treatment any longer, contact the spine care specialist at The Spine Institute today.
Health Facts
Back pain is often caused by obesity
Most people know that obesity contributes to the development of various diseases. However, did you know that obesity is a contributing factor to back pain? It is true. Being overweight or obese can significantly contribute to  osteoporosis, osteoarthritis, rheumatoid arthritis, degenerative disc disease, spinal stenosis, and spondylolisthesis.
Patient Privacy Policy
NOTICE OF PRIVACY PRACTICES
This site is an independent service offered by BCC Internet, Inc. It provides complimentary Internet-based general health information to U.S. consumers. At BCC Internet, Inc., we respect the privacy of visitors to our site. Please read this User Agreement and Privacy Policy carefully so that you understand our privacy practices.
---
DO NOT USE THIS SITE FOR MEDICAL EMERGENCY SERVICES. FOR EMERGENCY SERVICES CALL 911 OR YOUR LOCAL EMERGENCY ASSISTANCE NUMBER.

---
PLEASE READ THESE TERMS AND CONDITIONS OF USE CAREFULLY BEFORE USING THIS SITE. By using this site, you expressly agree to be bound to the foregoing terms and conditions. If you do not agree to all of the Terms and Conditions of this Agreement, do NOT use this site. These Terms and Conditions may be revised and updated at any time. Please periodically review the Terms and Conditions because your continued usage of this site will mean that you accept those changes.
Terms of Use: By entering this site or the links accessible through this site, you expressly agree to be bound by this agreement. The information and the resources contained on and accessible through this site are made available by BCC Internet, Inc., and/or its suppliers and vendors, and are subject to your agreement to their terms and conditions.

All contents copyright © BCC Internet, Inc. All rights reserved: All text, images, and materials on this server and this Internet site, including the site's design, layout, and organization within the site are owned or licensed by BCC Internet, Inc. or its suppliers or vendors and are protected by U.S. and international copyrights. The name "BCC Internet, Inc." and the logo are proprietary trademarks and service marks of BCC Internet, Inc. You have been granted a license to view and use the BCC Internet, Inc. Materials subject to the terms and conditions of this Agreement. You may download and copy one copy of BCC Internet, Inc. Materials for your own non-commercial home use, provided that you keep all copyright, service mark and other proprietary notices. You may not sell or modify BCC Internet, Inc. Materials or reproduce, display publicly or otherwise use the BCC Internet, Inc. Materials in any way for any public or commercial purpose. Permission to reprint or electronically reproduce any document or graphic, in whole or in part, for any other purpose is expressly prohibited without prior written consent from BCC Internet, Inc. Users are solely responsible for obtaining such permission and for any damages resulting from unauthorized disclosures.
Content: The content of the site is provided for general information only and is not intended in any way to substitute for professional medical advice. Neither the content nor any other service offered through the site is intended to be relied upon for medical diagnosis or treatment. BCC Internet, Inc. does NOT provide a service for answering your health questions. The information contained on the web site is "AS IS", with no written or implied warranty. Further we do not warrant, guarantee, or make any representations regarding the use, or the results of use in terms of correctness, completeness, accuracy, quality, reliability, timeliness, or otherwise, the information contained on this web site. Always seek the advice of your physician or other qualified health professional if you have any concern about your health. The information contained on the site is not sufficient or provided in order to diagnose, cure, prevent or treat any health-related symptoms or diseases. In addition, you should consult your own physician to evaluate any information received from the web site before putting it to use. Your use of this Web site indicates your agreement to be bound by the Terms of Use. If you suspect that you may have a medical problem, or you need emergency and/or crisis information you should promptly contact your health care provider.
No Liability for Content: BCC Internet, Inc. does not assume any liability for the contents of any material provided on the site. Reliance on any information provided by BCC Internet, Inc., it's staff, vendors or suppliers, is solely at your own risk. BCC Internet, Inc. assumes no liability or responsibility for damage or injury to persons or property arising from any use of any information, idea, or instruction contained in, or any test, product, or procedure discussed on this Site. Under no circumstances shall BCC Internet, Inc. be liable for any direct, indirect, punitive, special, incidental or consequential damages that are directly or indirectly related to the use of, or the inability to use, the content, materials, information and functions of the site, even if BCC Internet, Inc. or any authorized representative thereof has been advised of the possibility of such damages. BCC Internet, Inc. accepts no responsibility for other organizations, businesses and private persons that provide information or services related to this web site. Opinions expressed by authors are not necessarily those of BCC Internet, Inc. Reference to any commercial product, process, or service, including those of paid advertisers, does not necessarily constitute or imply its endorsement or recommendation by BCC Internet, Inc. Some states do not allow the exclusion or limitation of incidental or consequential damages, so the above limitation or exclusion may not apply to you.

Use of Information and Resources: BCC Internet, Inc. provides complimentary Internet-based general health information to U.S. consumers on this site. This site and or our staff will not diagnose, treat, or prescribe for anyone solely through use of the site. BCC Internet, Inc. will not accept payment from you and will not bill any insurance company, government payment program or other source of health benefits for information provided on the site. This site may not be used as a supplement or alternative for health care, and is not intended and does not warrant or guarantee the quality or quantity of any services of any of the advertisers identified; further, the information provided is merely for educational purposes, and its accuracy is not guaranteed. Do not use this site as a substitute for health care. Please consult with your doctor or other health care provider regarding any health questions you may have. This site is not sponsored or maintained by doctors or licensed health care providers and may not be used for health diagnosis or treatment. Do not use this site to disregard any health advice, nor to delay seeking health advice, because of something you read or see in this site. You understand and agree that neither BCC Internet, Inc. nor its suppliers or vendors or linked domain names are responsible or liable for any claim, loss, or damage, of any kind, directly or indirectly resulting from your use of this site or the information, services or the resources contained on or accessible through it. BCC Internet, Inc. expressly disclaims any implied warranty or representation about the information or accuracy, relevance, timeliness, completeness, or appropriateness for any particular purpose of any kind. Your use of this site is also subject to all additional disclaimers and caveats that may appear throughout the site.

Links to Other Internet Sites: This site also includes links to other Internet sites created and maintained by BCC Internet, Inc. suppliers, or vendors. Be aware that BCC Internet, Inc. does not control, makes no guarantees about, and disclaims any express or implied representations or warranties about the accuracy, relevance, timeliness, completeness, or appropriateness for a particular purpose of the information or the resources contained on these or any other Internet sites. Further, the inclusion of these links is merely for your convenience and is not intended and does not reflect BCC Internet, Inc. opinion on the accuracy or the importance of these other sites; further, BCC Internet, Inc. does not endorse in any manner any of the views expressed in, or products or services offered by this or these other sites. All information in any BCC Internet, Inc. site, or associated or linked site, is extracted, read, used, or relied upon by you at your own risk.

Disclaimer of Warranty: BCC Internet, Inc. and its suppliers and vendors disclaim all express or implied representations or warranties with regard to the information, services, products, materials, and any other resources contained on or accessible through this site, including without limitation any implied warranties of merchantability or fitness for a particular purpose. All information provided by BCC Internet, Inc. is made available "as is" and "as available" without warranty of any kind, or any express or implied promise, including, by way of example, its continuing availability.

Limitation of Liability: To the maximum extent permitted by applicable law, in no event shall BCC Internet, Inc. or its suppliers or vendors be liable for any direct, indirect, special, punitive, incidental, exemplary, contractual, or consequential damages, or any damages whatsoever of any kind, resulting from any loss, which by way of example, includes loss of use, loss of data, loss of profits, business interruption, litigation, or any other pecuniary loss, whether based on breach of contract, tort (including negligence), product liability, or otherwise, arising out of or in any way connected with the use or performance of this site, with the delay or inability to use this site, or with the provision of or failure to make available any information, services, products, materials, or other resources contained on or accessible through this site, even if advised of the possibility of such damages. With respect to products, goods, or services purchased from any entity identified, listed, named or contacted through this web site, or any links to BCC Internet, Inc.'s web site, in no event shall BCC Internet, Inc. be liable for any direct, indirect, special, punitive, incidental, exemplary, or consequential damages, or any damages whatsoever, resulting from any loss of use, loss of profits, litigation, or any other pecuniary loss, whether based on breach of contract, tort (including negligence), product liability, or otherwise, arising out of or in any way connected with the provision of or failure to make available any such products, goods, or services, even if advised of the possibility of such damages. You acknowledge and agree that the limitations set forth above are elements of this agreement, and that this site would not be provided to you absent such limitations.

Indemnification: You agree to indemnify, defend, and hold harmless BCC Internet, Inc. and its suppliers and vendors from any liability, loss, claim, and expense (including reasonable attorneys' fees) related to your violation of this agreement or use of this site in any manner. Your use of this site shall constitute your acceptance of the terms of this Agreement, as revised and modified, if any, each and every time you access this site. BCC Internet, Inc. may modify this agreement at any time, and such modifications shall be effective immediately upon posting of the modified agreement.

Miscellaneous: BCC Internet, Inc.'s failure to insist upon strict enforcement of any provision(s) of this agreement shall not be construed as a waiver of any provision or right. This agreement and the resolution of any dispute related to this agreement or this site shall be governed by and construed in accordance with the laws of California, without giving effect to any principles or conflicts of law. Any legal action or proceeding between BCC Internet, Inc. or its links, suppliers or vendors and you related to this agreement or this site shall be brought exclusively in a state or federal court of competent jurisdiction sitting in the County of Los Angeles, California, or the Southern District of California.

Personally Identifiable Information: BCC Internet, Inc.'s Privacy Policy (Personally Identifiable Information). Our policy is to allow our users to anonymously access the information on this site. BCC Internet, Inc. does not collect, sell, or provide any personally identifiable information regarding you or other users, unless you voluntarily provide that information to us for that purpose. BCC Internet, Inc. does not place cookies in your browser. All information submitted to this website by Internet users becomes the property of BCC Internet, Inc.
HIPAA Compliant - Privacy of Your Health Information: We understand that your health information is personal to you and we are committed to protecting information about you. However, we have no control over your information once it is forwarded to a health service provider. Health service providers are required by law to comply with privacy laws such as the Health Insurance Portability and Accountability Act (HIPAA) of 1996. We do not warrant that any health information provided by you will be protected or treated in a manner complying with privacy laws including HIPAA, regulations enacted thereunder, or applicable state laws. BCC Internet, Inc. expressly disclaims all liability for any wrongful disclosure of your health information by any health service provider. Please do not share personal medical information that you wish to keep confidential. Information you provide is not protected under confidentiality laws that protect physician-patient communications. This website attempts to educate you on certain health topics and tries to find local health service providers that may be of value to you. The representation of any health service providers does not imply endorsement, sponsorship, or recommendation by BCC Internet, Inc. of these health service providers. They are private, independent practitioners and you are advised to conduct your own thorough review of the health service provider ("provider") prior to retaining or taking advice from that provider. Advice given and opinions expressed by a health service provider are those of the provider, (and not of BCC Internet, Inc.) BCC Internet, Inc. expressly disclaims all liability for any actions taken or not taken by you based upon any or all advice given or any service provided by the provider to you.
Security: BCC Internet, Inc. places the utmost importance on protecting information transmitted via this web site and will take security precautions to protect all such information. However, BCC Internet, Inc. cannot guarantee that any electronic communication is totally secure. BCC Internet, Inc. will take measures to secure and protect all customer-specific information from loss, misuse, and alteration. Access to this server may be monitored. The requested documents, the machine originating the request, and the time of the request may be logged for access statistics and security purposes. Any unauthorized access to this system is prohibited and is subject to criminal and civil penalties under local, state, federal and international laws.
Updates to Terms: BCC Internet, Inc. reserves the right to modify or amend its Terms of Use at any time, and from time to time. Any changes to the policy will be posted on this site.
Governing Law: These Terms and Conditions shall be construed, interpreted and performed exclusively according to the, excluding conflict of law rules, of the State of California, United States of America. Any legal action with respect to any transaction must be commenced within one year after the cause of action has arisen. You agree that the courts located in the State of California will constitute the sole and exclusive forum for the resolution of any and all disputes and you hereby consent to the jurisdiction of such courts and irrevocably waive any objections thereto. Any cause of action or claim you have with respect to this site must be commenced within one (1) year after the claim or cause of action arises or such claim or cause of action is barred. If any clause or provision of this Agreement is determined to be illegal, invalid or unenforceable under present or future law, then, in that event, such clause or provision will be severed from this Agreement without affecting the enforceability of all remaining clauses and provisions. You acknowledge that the Terms and Conditions, including the disclaimers, in this Agreement are fair and reasonable and that your agreement to follow and be bound to them is not the result of fraud, duress or undue influence exercised upon you by any person or entity. By continuing to use this site you acknowledge that you have reviewed and agree to all of the Terms and Conditions. This website, including all content, services, functions, materials and information made available on or accessed through it, is provided "AS IS". Your continued access or use of the web site is deemed acceptance of these terms and conditions. Unless otherwise stated, to the fullest extent permissible by law, BCC Internet, Inc., affiliates, employees and independent contractors (herein after "BCC Internet, Inc.") make no representations or warranties of any kind whatsoever for: (1) the content on the site, including without limitation, its accuracy, currency, completeness or reliability; (2) the materials and functions made accessible by the site or accessed through the site; (3) any products or services or hypertext links to sites operated by third parties; or (4) any breach of security associated with the transmission of sensitive information through the site or any linked site. Any links on this web site to web sites operated by third parties are provided exclusively for your convenience. BCC Internet, Inc. reserves the right to modify, suspend or discontinue any aspect of the web site, including without limitation any of the policies and conditions that govern the use of the web site, at any time, without prior notice. BCC Internet, Inc. may also impose limits on certain features and/or services or restrict your access to parts or all of the web site. Your continued access or use of the web site after any change in the terms shall be deemed acceptance by you of such revised terms.
A Final Note: The Web is an evolving medium. If we need to change our privacy policy at some point in the future, we'll post the changes here. Of course, our use of information gathered while the current policy is in effect will always be consistent with the current policy, even if we change that policy later. Thanks visiting BCC Internet, Inc.
Last updated: October. 18, 2010
Latest news
Visit our
media library
for access to all of our news videos.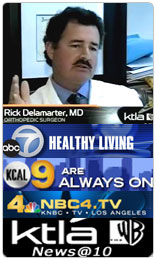 The Spine Institute is often in the news pioneering new treatments to help the reported 34 million Americans 18 years and older who suffer lower back pain, and another 9 million who suffer neck pain. Watch the news coverage
here
.
Dr. Hyun Bae is the first U.S. surgeon to test a new synthetic gel called the
NuCore injectable nucleus
. It's injected directly into the natural cushion of the disc.