Health Facts
Back pain is often caused by obesity
Most people know that obesity contributes to the development of various diseases. However, did you know that obesity is a contributing factor to back pain? It is true. Being overweight or obese can significantly contribute to  osteoporosis, osteoarthritis, rheumatoid arthritis, degenerative disc disease, spinal stenosis, and spondylolisthesis.
Laminoplasty Procedure
This procedure is very similar to a laminectomy. However instead of completely removing the lamina (bony roof), the lamina is hinged on one side and rotated away from the spinal cord - a procedure similar to cracking open a door.
This procedure allows marked expansion of the spinal canal and relieves compression of the spinal cord. It also is good alternative to an anterior cervical decompression and fusion. The laminaplasty is performed posteriorly and does not involve fusion of the spine. It allows for decompression of spinal canal while maintaining good stability.
Latest news
Visit our
media library
for access to all of our news videos.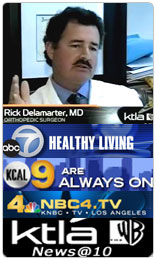 The Spine Institute is often in the news pioneering new treatments to help the reported 34 million Americans 18 years and older who suffer lower back pain, and another 9 million who suffer neck pain. Watch the news coverage
here
.