Health Facts
Back pain is often caused by obesity
Most people know that obesity contributes to the development of various diseases. However, did you know that obesity is a contributing factor to back pain? It is true. Being overweight or obese can significantly contribute to  osteoporosis, osteoarthritis, rheumatoid arthritis, degenerative disc disease, spinal stenosis, and spondylolisthesis.
Clinical Trials Overview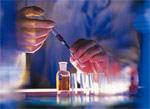 Clinical trials are research studies that are designed to evaluate experimental (or "investigational") medical treatments or procedures. Clinical trials play a key role in the progress toward providing better patient outcomes for our spine patients and those at other institutions.
The search for new spine disease treatments or diagnostic tests begins in the laboratory. A clinical trial is just one stage in the long and detailed research process. Clinical trials can be designed to evaluate modifications to existing or "standard" treatment for specific spine diseases, new experimental drugs or agents, and new experimental ways to improve recovery time after patients receive treatment.
Why are Clinical Trials Important?
Most advances in the diagnosis, treatment, and care of patients with spine injury or disease have occurred because of clinical trials. Examples include improved diagnostic tests that allow for earlier treatment, increased knowledge and education regarding risk factors, and experimental treatments. The results of many clinical trials have contributed to health care professionals finding better ways to treat injury or diseases of the spine.

Choose a Clinical Trail for Information
Status

Trial Titles

Investigator(s)
•

OPEN

Treatment of Symptomatic Lumbar Internal Disc Disruption (IDD) With the Biostat® System. The Biostat System is a combination product combining a resorbable biologic product with a delivery device system used to prepare and insert the biologic material into a lumbar intervertebral disc.
Dr. Hyun Bae
•
OPEN
Intradiscal rhGDF-5 Phase I/II Clinical Trial: The study drug is called rhGDF-5, a recombinant version of human GDF-5. GDF-5 is a member of the transforming growth factor-b (TGF-b) superfamily and the bone morphogenetic protein (BMP) subfamily, and it influences the growth and differentiation of various tissues, including the intervertebral disc. Participants in the study will be followed for approximately 36 months (visits for the first 12 months post-treatment and via annual telephone contact at months 24 and 36 post-treatment).
Hyun W. Bae, M.D.

•

CLOSED

Protein injectable formulation called BMP-7 A (Bone Morphogenetic Protein), is being used to help encourage damaged discs to "regrow."
Dr. Hyun Bae
•

CLOSED

Nucleus Replacement This treatment uses a synthetic gel called the NuCore injectable nucleus. It's injected directly into the natural cushion of the disc. It is made from two cloned natural substances. It's non-toxic and preliminary research shows it's durable.
Dr. Hyun Bae
Who is Eligible to Participate in a Clinical Trial?
Each study has its own guidelines for who can participate. Generally, participants are alike in key ways - such as the type injury or disease, age, gender and other factors.
Why Take Part in a Clinical Trial?
There are many reasons why you may choose to volunteer for a clinical trial.
There is a chance that an experimental treatment will be more effective than "standard" treatment for a specific disease or injury, though it could also be less effective.


Patients may want to help scientists and health care professionals learn more about the experimental treatment or test being studied so that others may benefit in the future.


Patients often receive more detailed follow-up care from doctors and health care professionals, who often specialize in the disease.


There may be many other factors affecting one's decision than are noted here.
What is Giving Consent to Participate in a Clinical Trial?
Because every clinical trial is designed to answer a specific research question, each clinical trial we conduct can only enroll patients with certain types and stages of spine injury or disease. Your overall health may also be a factor in whether you are an appropriate candidate for a particular clinical trial. The procedures that help us determine if a specific patient volunteer is appropriate for a particular clinical trial also provides the patient with information to help them decide whether they wish to volunteer for the clinical trial. Your medical records are examined, and your study physician reviews them with you to obtain an appropriate medical history. You will also have a physical exam and possibly other tests such as blood work, MRIs, and other types of scans.
The clinical trial team then reviews your medical history and the results of your exams and tests. From this, they decide if you are an appropriate candidate for the clinical trial, meeting all necessary criteria. If you are not found to be eligible for a specific clinical trial, you should not necessarily feel that there is anything wrong with you. This only means that you do not meet all the specific requirements for that particular clinical trial. In many cases, patients do not qualify for clinical trials because they are actually too healthy, or their disease is not advanced enough. If you are found to be eligible and meet all of the criteria, the clinical trial team will then discuss with you and your family the purpose of the clinical trial and what it involves. They will explain the experimental plan that must be followed carefully and any approved treatments available to you. You will receive a consent form that must be signed before you enter or start the trial. Before you sign the consent form, you should review the form and discuss it with your family and friends. It is important that you write down any questions that you have and discuss them with your study doctor or nurse before you sign it, keeping in mind that your signature does not relinquish your right to discontinue participation in the clinical trial at any time you wish.
After you have signed the consent form, you will be given a copy for your reference. The consent form contains information about the experimental treatment, known side effects and risks, possible benefits, potential costs and payments, and alternative treatments. The consent form will also include information about whether you will need to be hospitalized specifically for the clinical trial, how long the trial lasts, the frequency of study visits, and other important issues.
Participation in a clinical trial is completely voluntary. It is your decision. You may decide to stop participation at any time during the clinical trial. All clinical trial personnel will support whatever choice you make. Choosing not to participate in or withdrawing from a clinical trial will not affect your ability to receive regular treatment. Making a decision to participate in a clinical trial takes time and careful consideration. It requires a commitment from you and your family or friends to help ensure that you have been properly informed of all information.